National Parks Plus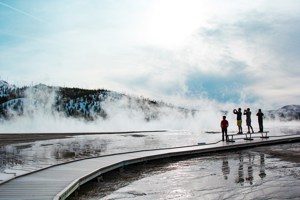 Duration: 9 Days
Countries: United States
Tour Provider: Contiki
Tour Code: NPPTM18
There aren't many places on this planet more majestic than America's great National Parks. And if you want to see them in all their glory, this is the trip for you. What does that mean? It means dinner under the starlit skies of Zion (glamping in luxe Under Canvas tents). It means stumbling along the towering red cliffs and winding trails of Bryce Canyon, before finishing the evening with some s'mores. It means hiking and wildlife spotting in Yellowstone, and it means an exclusive Navajo led tour of Antelope Canyon with exclusive access to their private lands and beauty spots & they even show us their customs. It basically means, then, the trip of a lifetime, and the best way to experience America's famed beauty spots all in one go.
Dining Summary
2 Dinner (D), 8 Breakfast (B)
Included Experience
Zion National Park: Navigate the red-sand landscape and see the epic canyon, hanging waterfalls and emerald pools., Bryce Canyon: Everything's bigger in America: even the national parks. Red 'hoodoo' rocks and pink cliffs are the ideal backdrop for that magical sunset., Page: Don't miss this epic red canyon. It's how we imagine Mars must look IRL. (MAKE TRAVEL MATTER ® Experience), Grand Teton National Park: Escape from the daily grind in this tranquil spot. Complete with wild bison and a backdrop of snowy peaks., Yellowstone National Park: A photographer's dream! See all of the natural wonders: Old Faithful geyser, Grand Prismatic Pool and Yellowstone Canyon.
Day 1: Las Vegas to Hurricane
Welcome to Vegas! We'll depart Nevada's party city this morning to somewhere decidedly more tranquil: Zion National Park in Utah. Our first National Park sets a high standard! Rolling into Zion today, we'll strap on our hiking boots and get ready to explore. Our experience here includes a stop at the comprehensive Visitor Centre as well as the fascinating Human History Museum along with some of the lower park trails. Welcome to our home for the next 2 nights: Sleep Inn Hurricane, a short drive from Zion National Park. This is the ultimate way to stay close to Zion without losing our creature comforts - think comfy beds, in-room coffeemakers, hot breakfast, heated indoor pool, a hot tub and a sundeck. We'll settle in with an included dinner, ready for exploring the Zion Canyon tomorrow.
Day 2: Hurricane - Zion National Park Day trip
Take advantage of that in-room coffeemaker and the included breakfast this morning, we have a full day of adventure ahead. Journeying into the Zion Canyon, our jaws will drop at the towering white, pink and red Navajo sandstone cliffs, surrounded by hanging gardens, soaring peaks, wildlife and birdsong. We'll spend most of today here, so pack some snacks and wear your best boots to get the most out of the day. There's no shortage of trails of all different levels, not to mention restaurants and cafes. Back at our accommodation this afternoon, there's time to chill in the heated pool or hot tub before finding yourself some dinner. We've never felt so darn American! Back at our accommodation this afternoon, there's time to chill in the heated pool or hot tub before finding yourself some dinner. We've never felt so darn American!
Day 3: Hurricane to Page
Driving out of Zion toward Page, Arizona, we'll stop in at Bryce Canyon National Park before leaving Utah behind. The sprawling Bryce Canyon National Park is made up of a series of otherworldly natural amphitheaters and crimson-colored hoodoos (towering spire-shaped rock formations). Heading into Bryce Canyon, we'll admire its unique organic earth bowls filled with red, orange and white spires and you'll have the chance to take to hike through the hoodoos. Bye Utah! Here in Arizona, we'll head to our hotel for the next 2 nights in friendly Page. Don't be deceived - this small, homely town packs a big punch when it comes to natural wonders.
Day 4: Page
National Parks Plus: Day 4 - Page
Day 5: Page to Salt Lake City
Saying goodbye to Page, today we travel to Salt Lake City: Utah's capital, and the religious centre of the Church of the Latter Day Saints - a.k.a the Mormons. Arriving in sparkling Salt Lake city with its dusty mountains and piercing skies, we'll be just in time for dinner and there's no shortage of places to eat. Make sure the Temple Square is on your sightseeing list, or even choose to take a Mormon-guided tour of the Temple. Either way, we'll make the most of the evening with an included dinner at Squatter's Pub Brewery (fried cheese curds and peanut butter chocolate pie anyone?) before we cross state lines to Jackson, Wyoming, tomorrow.
Day 6: Salt Lake City to Jackson via Garden City
On the road again today, with some great scenery to keep you entertained. A lunch stop in Garden City, a popular summer resort town near the shores of Bear Lake, marks the end of our time in Utah. Make sure you get a raspberry shake! And just like that we find ourselves in another new state, this time Wyoming. We'll pull in at Jackson, our base for Yellowstone National Park for the next 3 nights. It's all about the cowboys here and you'll have the chance to opt for a Teton Village Trail Ride on horseback to get into the swing of things, then we'll absolutely be taking a seat in the saddle with a cold beer at the Million Dollar Cowboy Bar downtown. Yeehaa!
Day 7: Jackson - Grand Tetons National Park and Yellowstone Park Day trip
We've got a full day exploring both Grand Tetons AND Yellowstone National Parks ahead of us. Can you believe it? Our first stop is the Grand Teton's Mountain Range, rising above a scene rich with abundant wildlife, pristine lakes, and spectacular mountain peaks. Here you'll have the chance to witness Oxbow Bend, Jackson Lake Dam & Colter Bay while gazing up in awe at the surrounding landscape. We won't mess around ticking some of the Yellowstone bucket list boxes. Hiking = check. Beautiful mountain scenery = check. Midway Geyser Station (where you can see the Grand Prismatic Spring), Old Faithful Geyser = check. Bison, bears, moose, elk = check. And a little bit of Colter Bay while we're out. After a full day in National Parks we'll head back to our accommodation for the night. Didn't get to see everything you wanted? No sweat, we'll be back again tomorrow.
Day 8: Yellowstone National Park Day Trip
Another full day exploring Yellowstone, lucky us! More Bison, bears, moose, and elk to see as we check off more on our bucket list today. But we also have the Mud Volcano, Uncle Tom's Trail and Inspiration point to cross off as we venture more into Yellowstone National Park. Bye Yellowstone, it's been incredible! We'll head back to our accommodation for the night, all National Park'ed out.
Day 9: Jackson to Salt Lake City
Somehow it's our last morning, and what a journey it's been! You have the option to end your trip here in Jackson - and sign up for some white water rafting while you're at it - or hitch a ride with us back to Salt Lake City today as we say farewell to nature.
| Date | Availability / Status | From price per person* | |
| --- | --- | --- | --- |
| 11 Jun 2023 | Available & Guaranteed | £2,835 pp * | Request Quote |
| 03 Sep 2023 | Available | £2,552 pp * | Request Quote |
| Date | Availability / Status | From price per person* | |
| --- | --- | --- | --- |
| 11 Jun 2023 | Available & Guaranteed | £3,970 pp* | Request Quote |
| 03 Sep 2023 | Available | £3,573 pp* | Request Quote |
Contact Us
Our Holiday Team at Travel Megastore are always available to help you with anything you might need - we've got you covered! Find our contact details for your selected regions below.
| Country | Phone | Operating Hours |
| --- | --- | --- |
| United Kingdom | | Monday-Friday: 9:00am-8:30pm |