Portugal Uncovered from Porto
Duration: 12 Days
Destination: Europe
Tour Provider: Wendy Wu
Deal Code: DT1AO84S
Description
Pricing is based on departure date 16th March 2024
Alternate date available for travel in 2023 & 2024
Small in size but rich in history, extravagant architecture and spectacular landscapes, Portugal punches well above its weight to earn its place as one of Europe's most rewarding travel destinations. Join us on this exhilarating journey from colourful Porto, rising theatrically up the banks of the Douro River, to the ornately cobbled streets of the capital Lisbon.
Along the way, sample Portugal's mouth-watering cuisine and world-class wines, and experience the rich musical traditions of Fado. Witness sweeping Atlantic vistas, arid mountain sierras and immaculately manicured vineyards, while discovering castles, cathedrals and monasteries and so many other legacies of Portugal's golden past.
Why Book?
Flexible booking policy: Enjoy one free amend up to 10 weeks before departure
Low Deposit: You can secure your tour with a deposit of just £350 per person
Why Choose Wendy Wu Tours?
More than 25 years expertise offering extraordinary tours
Tour Highlights:
Visit: Porto - Viana do Castelo - Geres National Park - Douro Valley - Coimbra - Caldas da Rainha - Évora - Lisbon
Meals: 15 breakfasts, 14 lunches, 15 dinners
International flights and current taxes
Domestic transportation
3 star plus - 4 star accommodation
Touring with guides and entrance fees
Visa fees for UK & EU passport holders
Tour Experience:
Tour the vineyards of the Douro Valley
Immerse yourself in the glorious beauty of the Douro Valley, with its famous terraced vineyards rising up from the languid river; explore first by traditional 'Rabelo' boat and then by train before finishing up at a local, family-run vineyard where you'll enjoy a leisurely tour and sample some of the exquisite wines.
Explore the beauty of the Alentejo region
Discover the rural paradise of rolling hills, cork forests, olive groves and vineyards that make up Portugal's Alentejo region. Visit a centuries old cork farm and learn from the owners about cork farming along with their other crops, then enjoy tasting the delicious wines and organic produce from the farm.
Discover historic Lisbon by tram
Rumble through the soulful heart of Lisbon on board your privately chartered 'No. 28 Tram'. These tiny, colourful trams date back to the 1930s and the No. 28 route takes you through the oldest and most picturesque districts of the city, passing through impossibly narrow streets.
Itinerary Overview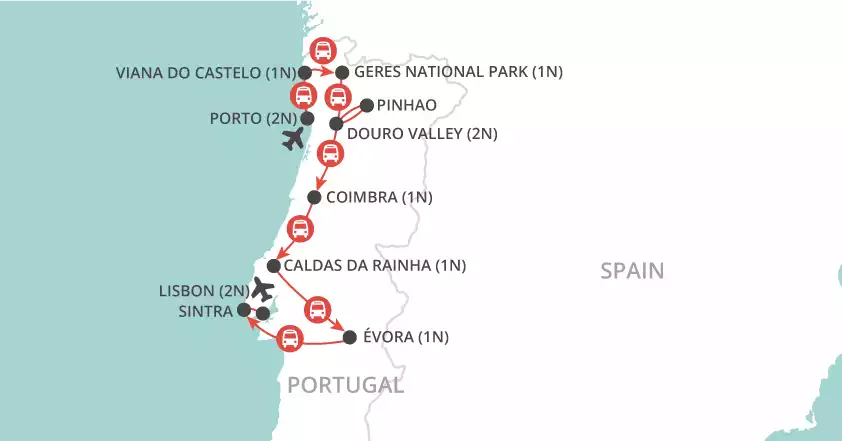 Day 1: Arrival in Porto
Fly to the vibrant and colourful city of Porto, on the Douro River estuary in northern Portugal. Depending on your time of arrival, the rest of the day is at leisure to start soaking up the culture of Porto's picturesque city centre, a UNESCO World Heritage Site.
Meals: Dinner
Day 2: Discover Porto
Porto is a city best explored on foot and today we discover its most famous monuments and some of its hidden secrets on a comprehensive walking tour. Along the way your guide will tell you about the politics, religion, local customs, traditions, gastronomy, wines, and everything else you need to know about Porto's local customs. After lunch in a traditional taverna, continue to one of Porto's oldest port cellars, where you will learn all about the wine after which the city is named, and sample three different vintages.
Meals: Breakfast, Lunch and Dinner
Day 3: Via Guimarães and Braga to Viana do Castelo
Head north to the historic town of Guimarães and enjoy a walking tour through its UNESCO listed medieval centre to the castle, known as the birthplace of the kingdom of Portugal, and to the colossal Palace of the Dukes. Pause for lunch in one of the city's medieval squares before continuing to Braga, the religious heart of Portugal, to visit the Bom Jesus do Monte complex. This neoclassical church sits at the top of a monumental 17-flight stairway. Continue to Viana do Castelo, often called the 'Jewel of the Costa Verde', to sample the fresh seafood for which the town is famous.
Meals: Breakfast, Lunch and Dinner
Day 4: Viana do Castelo to Gerês National Park
This morning, discover the fabulous Manueline, Renaissance, Baroque and Art Deco architecture of Viana do Costelo on a guided walking tour, then drive to the historic town of Ponte de Lima with its famous medieval bridge. Enjoy a traditional lunch in the town square and then continue to Quinta do Ameal, a wine estate dating back to 1710 in the heart of the Vinho Verde region. Here you can visit the cellar and learn about its fully organic wine production, with tastings of some of the estate wines. Finally drive to your hotel on the western edge of the Gerês National Park.
Meals: Breakfast, Lunch and Dinner
Day 5: Explore Gerês National Park and drive to Douro Valley
Today you will experience the wild natural beauty of Gerês National Park. Transfer to the park entrance and enjoy a relaxed and gentle-paced walk to see crystal-clear streams, hidden waterfalls and peaceful lakes. Take the opportunity to swim, if you like, in the refreshing waters after a picnic lunch at the water's edge. Then continue to the attractive town of Vila Real, pausing to visit the baroque masterpiece Mateus Palace, and finally drive into the scenic Douro Valley region to our hotel overlooking the famous terraced hillsides.
Meals: Breakfast, Lunch and Dinner
Day 6: Douro Valley by water and rail
This morning, drive to the lovely town of Pinhão in the heart of the Douro Valley. Here, board a historic Rabelo boat for a relaxing cruise on the Douro River, flanked by wineries on both riverbanks. Next, step aboard a local train and enjoy a scenic rail trip along the Douro River to the town of Peso da Régua. Continue by coach to a local family-run winery in the Douro Valley. Here enjoy a leisurely tour of the vineyard and learn about the wine making process, while sampling some of the wines. Return later to your hotel for some time at leisure.
Meals: Breakfast, Lunch and Dinner
Day 7: Douro Valley to Coimbra
Today head south from the Douro Valley to the wildlife-rich hills of the Serra da Lousã. Here explore some of the region's characteristic schist villages, built almost entirely of schist and surrounded by wooded hills. Sample talasnico, a local pastry made with honey, chestnuts and almond, along with local cheeses, wines and other produce. Continue to beautiful Coimbra and take a guided walk through the university town, whose historic centre is a multi-coloured collage of buildings spanning nearly a millennium.
Meals: Breakfast, Lunch and Dinner
Day 8: Coimbra to Caldas da Rainha
First visit the small town of Tomar, the last Templar town to be commissioned and considered one of Portugal's finest historical jewels. Admire the UNESCO listed Convent of Christ while learning about the history and legends of the Templar Order and the Christ Order. Next visit two nearby monasteries, also UNESCO protected: first explore the 14th century Monastery of Batalha, with its spectacular flamboyant gothic architecture, then the earlier 12th century Alcobaça Monastery with its remarkable early Gothic façade. Enjoy lunch at the traditional fishing village of Nazare, famous for its big wave surfing, then head to the medieval, walled town of Obidos. Here, try some of the sweet cherry liqueur known as ginja and soak up the ambience of the cobbled paths and tiny medieval houses.
Meals: Breakfast, Lunch and Dinner
Day 9: Caldas da Rainha to Évora
Head south to the Alentejo region. First visit a working cork farm, set in a rural paradise of rolling hills, cork forests, olive groves and vineyards, with the occasional medieval fortress or abandoned chapel. Learn about cork farming along with all the other farm activities, plus the local fauna and flora. At the farmhouse, enjoy a tasting of the delicious wines produced here. Later arrive at Évora and set out on a walking tour of the town. Explore the UNESCO listed city centre, which dates right back to Roman times, and climb to the roof of Évora Cathedral to admire the view of the city and its surroundings.
Meals: Breakfast, Lunch and Dinner
Day 10: Sintra and Old Lisbon
First drive to Sintra and visit the historic heart of this fabulously romantic 19th-century town, with its ornate and vividly painted villas and palaces, set in luxuriant parks and gardens. The whole area is classified as a UNESCO World Heritage Site. Later in the evening, having checked in at your city centre hotel, set out on a walking tour to experience the emotion of Fado, the evocative, haunting and deeply traditional Portuguese music. Guided by your Fado singer, discover some of the traditional Fado haunts of Old Lisbon, and visit a Fado House, where you will enjoy an incredible live performance and be transported to another world.
Meals: Breakfast, Lunch and Dinner
Day 11: Lisbon and Belém
Set out on an action-packed final day with a guided walking tour of Lisbon's beautiful historical centre, then board your private 'No. 28 Tram'. These tiny, colourful trams date back to the 1930s and the No. 28 route takes you through the oldest and most picturesque districts of Lisbon. Next all aboard our fleet of electric tuk-tuks for an enjoyable ride from Lisbon to Belém, passing by the river and watching the bustling city life. Explore a host of Belém's famous monuments, legacies of Portugal's 'Golden Age of Exploration', before ending the day with a relaxing journey back to Lisbon along the Tagus River by sailing boat. Finally, enjoy a farewell dinner at a rooftop restaurant with views across the city and the river.
Meals: Breakfast, Lunch and Dinner
Day 12: Depart Lisbon
Transfer to Lisbon Airport for your onward flight.
Meals: Breakfast
Terms & Conditions
Prices listed are per person in Great British Pound, based on twin occupancy, rates for single occupancy may differ, Rates offered are including all discounts unless otherwise stated. All bookings are subject to availability. Other travel periods may be available. Some block out dates may apply. Rates may alter depending upon the dates requested and surcharges if applicable. Final booking confirmation only provided once payment has been processed. Contact our travel team for more details. Our Holiday Centre reserves the right to withdraw this promotion without notice at any time. Flights are not included. Pricing correct as at 031st May 2023