Reserve your 2025 journey early and save up to 20% on select sailings
Duration: 7 Nights
Destination: Numerous Destinations & Departures
Deal Code: DCZVPQ3
Description
New for 2025!
River Journeys Through Europe, Asia, Africa and South America
Now is the time to start planning your unforgettable river cruise vacation in 2025. We are delighted to announce the many enriching experiences we have planned for you on the rivers.
From the eye-opening traditions you'll witness on Vietnam and Cambodia's mighty Mekong River to the beautiful tulips and grand castles along the Dutch & Belgian Waterways in the Netherlands and Belgium, our innovative river cruise ships will take you to the very heart of some of the world's most fascinating destinations. We cannot wait to welcome you on board and pamper you on your journey with AmaWaterways, the Heart of the River.
We highly recommend you reserve your 2025 river cruise today to ensure you enjoy your top-choice balcony stateroom or suite and save!
Early booking reward
Reserve your 2025 journey early and Save Up to 20% on select sailings when you reserve your river cruise by September 30, 2023
Whether you prefer exploring on a hilltop hike, biking through the countryside, tasting local delights or simply enjoying the scenery from your balcony, it's all waiting for you on an unforgettable AmaWaterways river cruise in 2025. 
---
About AmaWaterways  
Family-owned and operated for more than 20 years, AmaWaterways offers unparalleled river cruise experiences with 28 custom-designed ships sailing Europe's Danube, Douro, Rhine, Moselle, Main, Rhône, Saône, Seine, Garonne and Dordogne Rivers, and Dutch and Belgian Waterways; Southeast Asia's Mekong River; Africa's Chobe River; Egypt's Nile River and Colombia's Magdalena River (2024). Co-founded by pioneering river cruise executives Rudi Schreiner, Kristin Karst and Jimmy Murphy, the company is renowned for its warm and welcoming crew; innovative and sustainable ship design; wellness activities (including a wide choice of included small group shore excursions featuring biking and hiking options); and award-winning, locally sourced cuisine paired with complimentary fine wine. Modern, spacious and tastefully decorated, most AmaWaterways ships welcome an average of just 150 guests and feature onboard amenities such as a stunning Main Lounge, speciality Chef's Table restaurant, hair and massage salons, Sun Deck walking track, and heated outdoor swimming pools with swim-up bars. AmaWaterways leads the river cruise industry in innovation, highlighted by the launch of the revolutionary AmaMagna, and the introduction of the history-making Seven River Journey itineraries.  
The company also offers a variety of themed sailings and brand relationships, with sailings geared towards active travellers and families, as well as group and charter options.  
---
Newly released itineraries: Reserve Your Suite Today
COLOMBIA
Embark on the journey of a lifetime through the "Land of a Thousand Rhythms" and join AmaWaterways as we become the first major river cruise line to explore Colombia along its magnificent Magdalena River. Reserve now to secure your top-choice twin-balcony stateroom or suite on board one of two stunning newly designed ships cruising between Cartagena and Barranquilla. Our Early Booking Reward of 5% savings is applicable to every stateroom on every Magdalena River cruise departure in 2025 – be sure to take advantage of these limited-time savings today!
Highlights
Journey through the incredible ecological Ciénaga Pijiño region, exploring the massive lake home to a variety of native flora and fauna
Enjoy an exclusive jazz street performance in the former Spanish trading post of Mompox – just for AmaWaterways guests
Go birdwatching in Magangue
Visit the beautiful coastal city of Cartagena, exploring the breathtaking Getsamaní neighborhood
Be treated to a delicious shoreside dinner in El Banco as well as an exclusive performance of traditional cumbia music
---
EGYPT
The wait is over: our 2025 Secrets of Egypt & the Nile river cruise and land journeys are now available for reservations. Sail aboard our stunning AmaDahlia or AmaLilia (debuting 2024) and explore ancient wonders, such as the beguiling Temple of Luxor and the mystifying Valley of the Kings and Queens. Plus, come face-to-face with the last survivor of the Seven Wonders of the Ancient World, the Great Sphinx and the three Pyramids of Giza in Cairo. This unforgettable itinerary includes exclusive experiences, such as a private tour of the tomb of Queen Nefertari, a visit to a Nubian village, and a private lunch at the Abdeen Presidential Palace in Cairo – just for AmaWaterways guests. Uncover the many mysteries and secrets that have shaped Egypt's past and continue to influence the future of this remarkable land during our 2025 sailing season!  
Reserve your Nile River journey before September 30, 2023, and you will receive up to 10% cruise savings with our Early Booking Reward. Contact your preferred travel advisor to take advantage of this limited-time offer today! 
Highlights
Spend three nights pre-cruise and one night post-cruise at either the St. Regis Cairo or the Ritz Carlton hotel enjoying a Nile River view stateroom
Learn the art of papyrus making at a museum in Luxor
Enjoy exclusive access to Queen Nefertari's Tomb in the Valley of the Queens
Explore a colorful Nubian village on Heisa Island
Add an optional excursion to Abu Simbel during your river cruise or extend your journey with an optional land package to Dubai, Israel or Jordan
---
AFRICA
We are delighted to announce our life-changing 2025 Africa Safaris & Wildlife Cruises are now available for reservations. Discover the fascinating wildlife, rich culture, and natural wonders of South Africa, including Kruger National Park, as well as Botswana, Namibia, Tanzania, and beyond. Customize your ideal river cruise and land journey with expertly curated itineraries that include a 4-night Chobe River wildlife cruise, awe-inspiring Victoria Falls, and the option to begin your journey in either Cape Town or Johannesburg. With world-renowned national parks featuring Africa's "Big Five" from lions to elephants, and spectacular wildlife lodges to choose from, space typically fills quickly on these itineraries.  
For the first time ever, you can save 5% on your entire river cruise and land journey on all 2025 Africa departures with our limited-time Early Booking Reward. Contact your travel advisor to reserve your 2025 Africa Safaris & Wildlife Cruise before September 30, 2023!  
Highlights
Cruise the Chobe River aboard the luxurious, newly renovated 28-passenger Zambezi Queen, specially built for wildlife viewing and designed for responsible, sustainable cruising.
Spend two nights marveling at Zimbabwe's thunderous Victoria Falls, a UNESCO World Heritage Site and one of the "Seven Natural Wonders of the World." 
Add an optional land package to visit Rwanda's Volcanoes National Park where you can trek to see the magnificent mountain gorillas and golden monkeys in their natural habitat.
---
PORTUGAL
Journey through the heart of Portugal on one of two specially curated river cruises along the stunning Douro River. Sip renowned wines amid the sun-kissed vineyards of Port Country, taste the distinctive flavors of Portuguese and Spanish cuisine and discover rich culture in colorful cities. Best of all, you can now choose to experience fall foliage or the festive holiday season with AmaWaterways while sailing through Portugal! Plus, you can cruise the Douro River in style aboard our brand-new AmaSintra, sister ship to our golden AmaDouro, debuting in 2025. Portugal is one of the most popular travel destinations right now – contact your travel advisor to reserve your 2025 Douro River cruise by September 30, 2023, and save up to 10% on your river cruise with our Early Booking Reward!
Highlights
Enjoy plenty of daytime scenic cruising through Port Country, admiring the picturesque vineyard-laden scenery in the world's oldest demarcated wine region
Be treated to traditional Portuguese cuisine at a local quinta (wine estate) in Entre-os-Rios
Marvel at the intricately painted blue and white azulejo tiles of the "Holy Staircase" at Lamego's breathtaking Santuário de Nossa Senhora dos Remédios (Sanctuary of Our Lady of Remedies)
---
FRANCE
From the legendary wine regions of Bordeaux, Burgundy, and Côtes du Rhône to historic châteaux to the exceptional worlds of artists such as Monet and Van Gogh, AmaWaterways' river cruises on the Seine, Rhône, Saône, Garonne, and Dordogne rivers will help you discover your joie de vivre. Say bonjour to France on one of six incredible 7-night itineraries. We also offer wonderful optional land packages in sought-after destinations such as St. Malo, France, and Spain's Basque Country.
Best of all, you can save up to 20% off your river cruise fare when you reserve your 2025 sailing by September 30, 2023. Plus, take advantage of our Combination Cruise Savings when you reserve two consecutive 7-night cruises through France! Contact your travel advisor to ensure you receive your top-choice stateroom and departure date today.
Highlights
Attend an exclusive wine festival in Bourg during our Taste of Bordeaux itinerary – just for AmaWaterways guests!
Sip wine from multiple different regions during your journey – in fact, every single French winegrowing region is covered on our river cruise itineraries!
Pedal through the French countryside on up to seven bike tours in seven nights on our Essence of Burgundy & Provence itinerary.
Step inside Monet's famed artwork at his home and gardens in Giverny while cruising France's Seine River.
---
RHINE, MAIN AND MOSELLE
Turn the pages of your very own storybook while sailing through Switzerland, France, Germany and the Netherlands on the fairytale Rhine River. Visit iconic cities such as Strasbourg and Cologne, and glide past more than 40 castles that line the riverbanks. Select itineraries also include one or both of the Rhine's main tributaries: the "best-kept secret" in river cruising, the vineyard-clad Moselle River, and the Main River, home to the impressive Main-Danube Canal. Join us – and create your own "once upon a time" memories.
Booking early has its rewards – reserve your stateroom or suite by September 30, 2023 and save up to 20% on your Rhine River journey!
Highlights
Experience AmaWaterways exclusives on select Rhine, Main and Moselle itineraries, such as our exclusive tour of Burg Lahneck Castle in Lahnstein, Germany, and our intimate wine festival in Volkach, Germany!
These itineraries sail nearly year-round with spring, summer, autumn and even Christmas Markets and New Year's departures!
Our ships on these rivers offer spacious twin-balcony staterooms – the perfect vantage point for viewing the castles of the Rhine Gorge.
NEW! February sailings on the Rhine River beginning in 2024 and 2025!
---
DUTCH AND BELGIAN WATERWAYS
Journey along the Dutch and Belgian waterways where history comes alive. Glorious gardens, colorful tulip fields, incredible castles and iconic windmills await – as do the delicious flavors and aromas of Belgian street fries, waffles and chocolates. Come sail away through the Netherlands and Belgium with us on one of two distinctive 7-night river journeys, Tulip Time and Best of Holland & Belgium.
Reserve your 2025 river cruise through the Netherlands and Belgium by September 30, 2023, and save up to 20% on all staterooms and suites with our Early Booking Reward!
Highlights
NEW for Tulip Time in 2025: Visit the fairytale village of Giethoorn, nicknamed the "Dutch Venice" for its plentiful canals
NEW for Tulip Time in 2025: US Immigration Tour featuring a visit to Delfshaven and the new FENIX Museum of Migration
Enjoy up to eight guided bike tours on our Best of Holland & Belgium itinerary – great for active travelers!
Take an electric boat ride and enjoy an exclusive private visit to one of Kinderdijk's historic windmills
---
DANUBE
Discover Old-World Europe while sailing through grand capitals and charming villages alike, where castles were built, kings and queens were crowned, and some of the most famous classical composers worked and performed. From timeless cities such as Budapest, Bratislava, and Vienna to off-the-beaten-path wonders in Croatia, Serbia, and Romania, our Danube River itineraries offer a variety of included excursions and exclusive experiences to suit every kind of traveler – in every single season. Plus, new for 2025, we are offering our 7-night Imperial Danube itinerary roundtrip from Budapest, which includes visits to both Klosterneuburg Abbey and Melk Abbey, a tour of Schönbrunn Palace and Gardens, and a full-day of scenic cruising through the Danube Bend and beyond! In addition, we are delighted to announce the return of our 14-night Magnificent Europe itinerary between Amsterdam and Budapest, giving you the chance to explore both the Rhine River and the Danube River in one all-encompassing journey.
Reserve your stateroom on the Danube River by September 30, 2023, and save up to 20% off your river cruise fare with our Early Booking Reward! 
Highlights
AmaWaterways heritage in the region and relationships forged over the years mean we are able to offer our guests exclusive experiences: a year-round Oktoberfest celebration in Vilshofen, a private tour of Austria's Greinburg Castle, and an unforgettable evening wine experience in Spitz.
Our award-winning flagship, AmaMagna, is reimagining the river cruise experience on the Danube. It offers the largest suites on the river, four restaurants, outdoor spin bikes, the first full-sized pickleball court on the river, an onboard cinema, and an exclusive itinerary 7-night, Magna on the Danube, which includes a stop in Spitz where no other ship can dock when AmaMagna is in port!
With up to six included excursions each day, our Danube River itineraries offer something for everyone: foodies, active travelers, gentle walkers, solo travelers, girlfriends and multigenerational families. We even offer Wine Cruises, Jewish heritage experiences for groups, and an exclusive Concierge Golf Program on AmaMagna.
---
Itinerary Overview
Top Picks
Captivating Rhine
Cruise from Amsterdam to Basel
Contoured by vineyard-clad hills and castles from yesteryear, the legendary Rhine captivates. Experience the allure of France's Alsace region in its welcoming capital, Strasbourg, and its priceless gem, Riquewihr. Discover Breisach, rising above the vineyards of the Rhine, and Freiburg, one of Germany's sunniest cities and gateway to the Black Forest. Fabled towns lost in time present you with the chance to taste local flavors—Rüdesheimer coffee and legendary German beer—and to touch history up close with guided hikes and bike rides. From Amsterdam's colorful canals to the majestic Swiss Alps, journey into the heart of the destinations you visit.
Countries: France, Germany, Netherlands, Switzerland
Rivers: Rhine
Travel date: Multiple departure date available for travel in 2025 (Call us for the availability)
Cruise Price from £2,100pp
Savings Apllicable: Call us to book, best price guarantee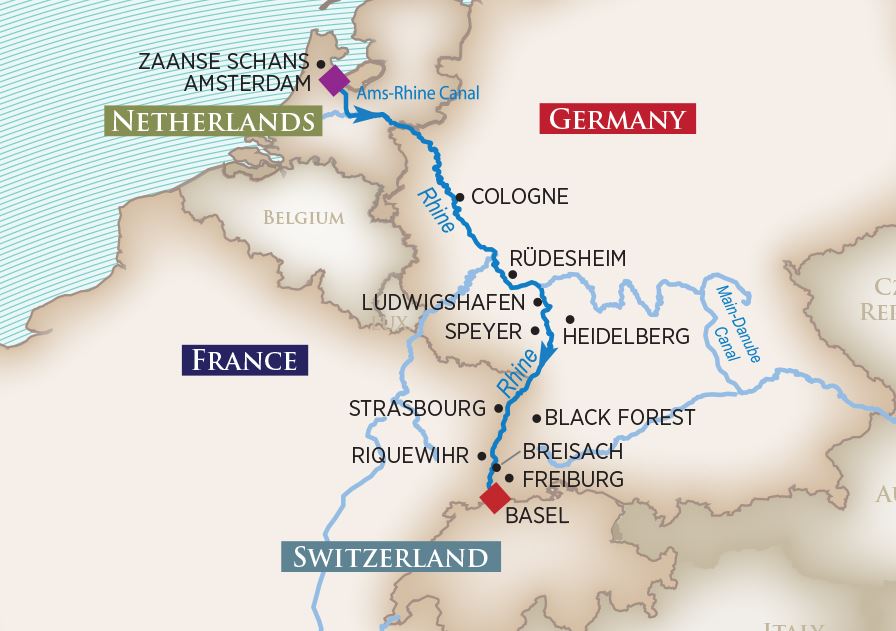 ---
Legendary Danube
Cruise from Nuremberg to Budapest
Delve into Europe's history starting in the perfectly preserved medieval city of Nuremberg and concluding in Budapest. In between, cruise through the man-made marvel, the Main-Danube Canal, across the Continental Divide and through the UNESCO-designated Wachau Valley. Explore medieval Regensburg and visit Vienna where imperial dynasties built a harmonious blend of architectural wonders. Throughout your journey, get a feel for the land by biking and hiking, and sampling delicate wines and hearty beers.
Countries: Austria, Germany, Hungary
Rivers: Danube
Travel date: Multiple departure date available for travel in 2025
Cruise Price from £2,946pp
Savings Apllicable: Call us to book, best price guarantee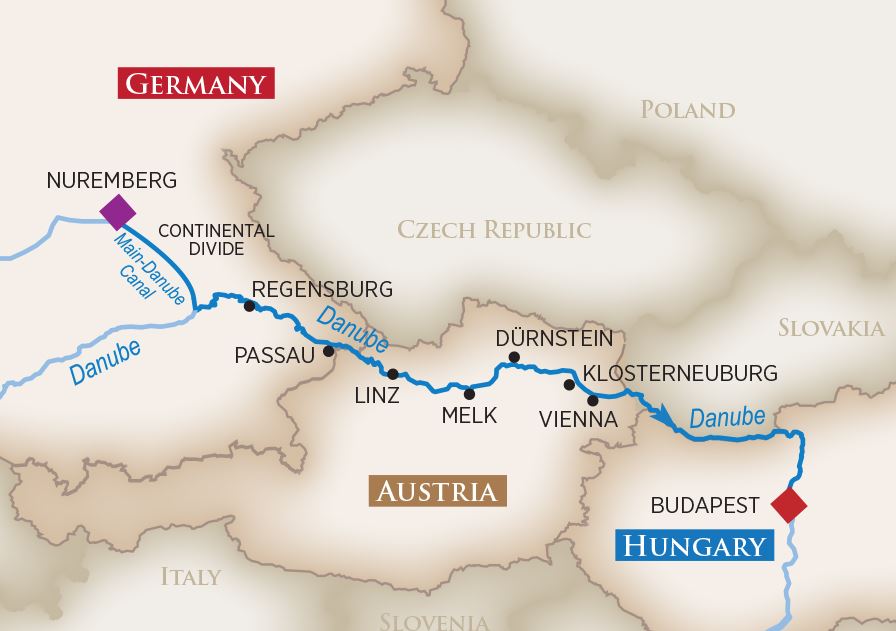 ---
Colors of Provence
Cruise from Lyon to Arles
From romantic cities to foodie havens and artistic epicenters, this itinerary enlivens all your senses. Enjoy three nights pre-cruise in the incomparable City of Lights, Paris. Then transfer to Lyon, France's culinary capital, and savor the beauty of legendary vineyards and imbibe in local vintages like Beaujolais and Côtes du Rhône. You can even become an expert in all things culinary: go in search of the highly prized "Black Diamond" truffles and learn how to pair chocolate with wine. Explore Avignon, a sprawling commune with an overwhelming array of UNESCO World Heritage Sites, intriguing art museums and historic charm. Lower the drawbridge of your fantasies in Arles, where you will trace the steps of famous artists including Van Gogh and Picasso. After your cruise, spend three nights in Barcelona taking in the top sites, as well as views of the mountains of Montserrat.
Countries: France, Spain
Rivers: Rhone
Travel date: Multiple departure date available for travel in 2025 (Call us for the availability)
Cruise Price from £3,023pp
Savings Apllicable: Call us to book, best price guarantee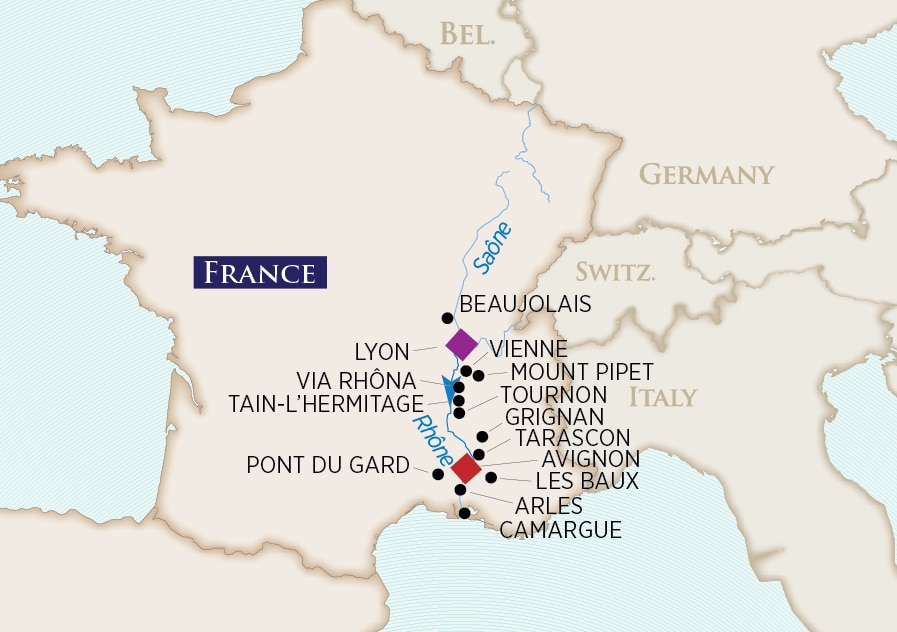 Terms & Conditions
Early Booking Reward of up to 20% cruise savings is per person based on cruise-only fare and applies to all staterooms and suites in Europe, Africa, Colombia, Egypt, and Asia. Early Booking Reward of up to 20% is valid on select 2025 Europe, 2025 Egypt, 2025 Africa, 2024/2025 Colombia, and 2025/2026 Asia cruises and expires September 30, 2023. Percentage discount amounts do vary by sailing date and are subject to change without notice.  Solo travelers must pay an additional single supplement amount before receiving any discounts. Loyalty benefits are combinable with Early Booking Rewards and are applicable to past guests only. Up to 20% Early Booking Reward is applied after all other promotions. Port charges, upgrades, transfers, land programs, gratuities and airfare are additional. Offer is capacity controlled and subject to modifications, changes, reductions or termination without notice.