Iceland, Scotland and Ireland from Reykjavik to Southampton
Duration: 9 Nights
Destination: Europe, Northern
Deal Code: DC6YF29
Description
Price is based on departure date 20th Aug 2024
Embarkation from Reykjavik
Cruise highlights
Reykjavik, Iceland
Discover this fascinating land where the forces of nature hold sway as you visit the modern capital with its thermally heated outdoor swimming pool, remarkable botanic gardens and folk museum. Explore the starkly beautiful countryside of lava formations, glaciers and incredible waterfalls and the site where the first parliament sat in 930 A.D.
Isafjordur, Iceland
Although remotely located in northwest Iceland and surrounded by ruggedly beautiful fjords, Isafjordur is surprisingly cosmopolitan. The capital of the Westfjords has long been a cultured oasis in the midst of this haunting beauty, fueled by the rewards of being one of Iceland's largest fishing centers. 
Akureyri, Iceland
Nestled along the shores of one of the most breathtaking fjords in Iceland, Akureyri is the nation's second largest city and a center of Icelandic folk culture. Visit the museums and art festivals, hike along the extraordinary vistas, or explore the botanical gardens. Also of interest is the most northerly 18-hole golf course in the world.
Eskifjördur, Iceland
Embrace the traditional Icelandic character of Eskifjördur, a sleepy fishing hamlet tucked into a dramatic fjord of the same name. As you sail into the harbor, marvel at the towering silhouette of Hólmatindur Mountain, an immensely picturesque feature that watches over the town from the opposite shore. 
Tórshavn (Faroe Islands), Denmark
Stroll through this picturesque fishing town and admire the views from the headland. Take a drive around this stunning, craggy island of majestic waterfalls, beautiful fjords, farms, villages, enigmatic sea stacks and panoramic views of the neighboring islands. Or visit an ancient Viking settlement in a valley of lakes.
Stornoway (Hebrides), United Kingdom
The capital of the Outer Hebrides, Stornoway is tucked into a beautiful natural harbor on Lewis Island, which the Vikings repeatedly invaded. While renowned as a center for Harris Tweed, Stornoway is also home to the Neo-Gothic Lews Castle, the An Lanntair arts center and a multitude of northern birds such as the Arctic skua, golden eagle and corncrake.
Glasgow (Greenock), United Kingdom
Offering some of the finest Victorian architecture in the UK, Glasgow is a major center of commerce and culture.Glasgow Cathedral is one of the only cathedrals in Scotland to have survived the Reformation in tact and houses a celebrated collection of stained glass windows. 
Dublin (Dún Laoghaire), Ireland
Exploring the city, you find answers. It's the strong sense of community embodied in its pub culture, in the stunning churches seemingly on every corner, and in the sprawling parks where residents gather to commune with nature. It's also the history preserved in the ancient books of Trinity College's Old Library and in the story of Guinness and his iconic beer. Meanwhile, the charming seaside town of Dún Laoghaire possesses its own sense of timeless appeal, from the James Joyce Tower and Museum to the National Maritime Museum of Ireland.
---
The Oceania Cruises Experience 
Each of Oceania voyages is an invitation to discover your next travel story and reignite your passions. Experience faraway places that you have always dreamed of. Encounter new ways of looking at the world and travel to the far corners of the globe. Savor your experience with imaginative insider tours that immerse you in the heart of the destination's culinary and cultural traditions.
---
Why book? 
Shore Excursions: Free Shore excursions credit 
Drinks: Free Champagne, Wine & More 
Dining: Free Gourmet Speciality Dining 
Wi-Fi: Receive Free unlimited wi-fi 
Flexibility to add Flights and Tranfers: Kindly call us and our holiday team will assist to add flights and transfers to your sailing at an additional cost.
---
Your Ship: Marina
Marina blends sophistication with a contemporary flair to create a casually elegant ambiance. From the sparkling Lalique Grand Staircase to the stunning Owner's Suites, designer touches are everywhere, highlighting the finest residential design and furnishings. More than anything, Marina personifies the Oceania Cruises experience.
Marina offers guests multiple dining venues, of which six are open-seating gourmet restaurants with no surcharge. La Reserve by Wine Spectator creates some of the most memorable and exclusive food, wine and Champagne experiences, while private dining at Privée offers the ultimate in exclusivity.
---
Itinerary highlights
Ship: Marina
Cabin: F - Inside Stateroom
Sail Date: 20th Aug 2024
Duration: 09 Nights 
Itinerary Overview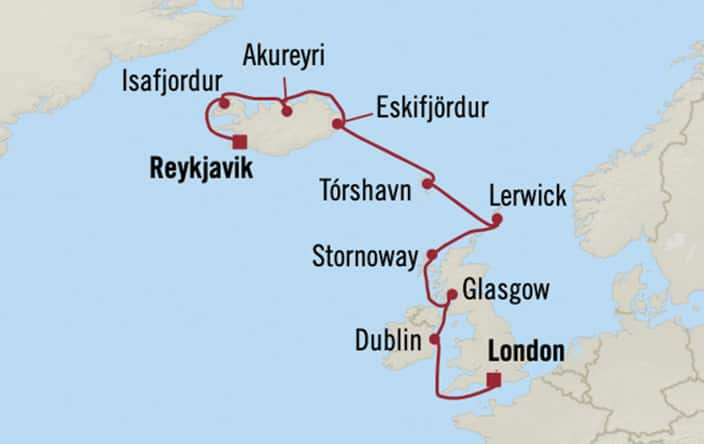 | | | | |
| --- | --- | --- | --- |
| Date | Destination | Arrive | Depart |
| 20-Aug-24 | Reykjavik, Iceland |   | 07:00pm |
| 21-Aug-24 | Isafjordur, Iceland | 08:00am | 05:00pm |
| 22-Aug-24 | Akureyri, Iceland | 07:00am | 05:00pm |
| 23-Aug-24 | Eskifjördur, Iceland | 07:00am | 04;00pm |
| 24-Aug-24 | Tórshavn (Faroe Islands), Denmark | 10:00am | 07:00pm |
| 25-Aug-24 | Stornoway (Hebrides), United Kingdom | 09:00am | 05:00pm |
| 26-Aug-24 | Glasgow (Greenock), United Kingdom | 09:00am | 07:00pm |
| 27-Aug-24 | Dublin (Dún Laoghaire), Ireland | 07:00am | 05:00pm |
| 28-Aug-24 | Cruising the Celtic Sea & English Channel |   |   |
| 29-Aug-24 | Southampton | 08:00am |   |
Terms & Conditions
All fares are displayed in Great British Pound and pricing is per person based on twin share occupancy unless stated otherwise. Although all due care is taken to keep information as up-to-date as possible, pricing and availability are subject to change without notice: due to varying timing schedules of supplier automated update processes; currency fluctuations; fuel surcharges or government tax & fee changes and may not be guaranteed until paid in full. Gratuities may be an additional onboard charge depending on particular cruise line selected. Please ask your cruise consultant for any clarification of Terms & Conditions.