Ancient Athens to Modern Dubai
Duration: 14 Nights
Destination: Multi Destinations
Deal Code: DC1HQTP8
Description
Pricing is based on departure date 22nd Oct 2023
Embark on a one-way voyage from Piraeus (Athens) to Dubai with a late-night stay in Safaga and an overnight in Cairo. Exploring sites along the Med and through the Red, you'll get your Greek glow going, and cross the famous Suez Canal before discovering the unique Arabian Gulf.
A Nile away from Egypt's glorious past
Amid the legendary Pyramids of Giza, maze-like museums, and the world's most famous river to cover, it's not hard to lose track of time in Cairo. But with two full days to explore this effervescent mega-city, you might as well embrace the hypnotic bustle and take some time to roam the ancient Khan El Khalili bazaar, haggle for those unique finds, pick a shisha bar to loiter in, stretch your evening into a wild night out, then see the sunrise by the Nile to the sound of dueling calls to prayer.
Greece is a country in southeastern Europe with thousands of islands throughout the Aegean and Ionian seas. Influential in ancient times, it's often called the cradle of Western civilization. Athens, its capital, retains landmarks including the 5th-century B.C. Acropolis citadel with the Parthenon temple. Greece is also known for its beaches, from the black sands of Santorini to the party resorts of Mykonos
Greece is known for being the cradle of Western Civilization, the birthplace of democracy, the Olympic Games, and its ancient history and magnificent temples. Ancient temples in Greece include the Parthenon at the Acropolis in Athens, the Temple of Apollo at Delphi, and the Temple of Poseidon at Sounion.
Port Said is an Egyptian city at the northern end of the Suez Canal, on the Mediterranean Sea. A concrete lighthouse dates from the canal's opening in 1869. On the waterfront is the former department store Simon Arzt. Now disused, the art deco building offers a glimpse into the past, to when Port Said was a cosmopolitan trading hub. Nearby is the Islamic-style Suez Canal Authority Building, with its green domes.
Dubai is a city and emirate in the United Arab Emirates known for luxury shopping, ultramodern architecture and a lively nightlife scene. Burj Khalifa, an 830m-tall tower, dominates the skyscraper-filled skyline. At its foot lies Dubai Fountain, with jets and lights choreographed to music. On artificial islands just offshore is Atlantis, The Palm, a resort with water and marine-animal parks.
Why Book?
Low Deposit: Secure your booking with just 20% deposit
Limited time offer: Second guests will get 50% off Plus, you can both toast to new experiences with up to $600 in free drinks.
Virgin Voyages Special's: Exclusively adult sailing, with luxury always included — dining at 20+ eateries, WiFi, essential drinks, tips, group fitness classes, and entertainment
Why Virgin Voyages?
Relaxed, flexible, and always authentic, Virgin Voyages voyages are where laid-back tranquility meets exhilaration — seeing the world aboard our 4 stunning, game-changing ships at sea. We're exclusively adult for a reason; so you can disconnect from routine and reconnect with yourself. From unique restaurants with Michelin star chef-curated menus to luxury inclusions you're not used to having taken care of for you, we're redefining what sea travel can look like.
Itinerary highlights
Ship: Resilient Lady
Cabin: XL Sea Terrace
Sail Date: 22nd Oct 2023
Duration: 14 Nights
Your Cruise itinerary price is based on XL Sea Terrace
Cunard Cruises offers multiple cabin category options to choose from Insider, Seaview, Sea Terrace, RockStar Quarters and Mega RockStar Quarters
(Kindly contact our holiday team for availability, best price guarantee)
Itinerary Overview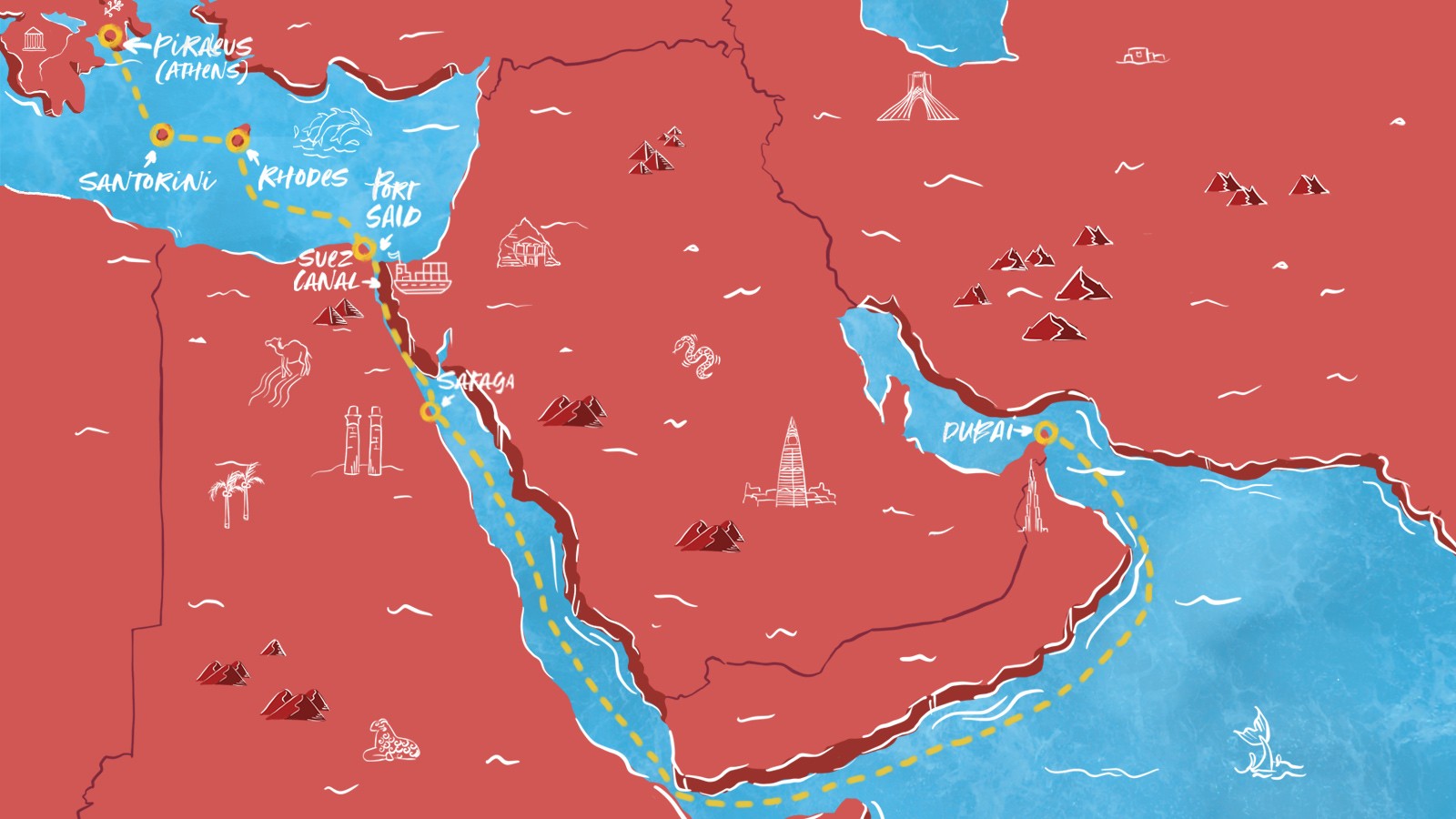 Terms & Conditions
All fares are displayed in Great British Pound and pricing is per person based on twin share occupancy unless stated otherwise. Although all due care is taken to keep information as up-to-date as possible, pricing and availability are subject to change without notice: due to varying timing schedules of supplier automated update processes; currency fluctuations; fuel surcharges or government tax & fee changes and may not be guaranteed until paid in full. Gratuities may be an additional onboard charge depending on particular cruise line selected. Please ask your cruise consultant for any clarification of Terms & Conditions.