Golden Triangle and the Tigers of Ranthambore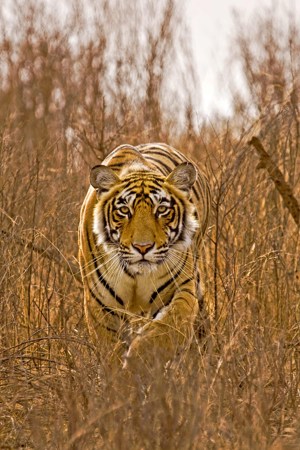 Duration: 9 Days
Countries: India
Tour Provider: Trafalgar
Tour Code: INGTZM18
Delight your every sense during this encounter with the soaring monuments and scenic landscapes of northern India – from bustling Delhi to the jungles of Ranthambore, hilltop fortresses to royal treasures.
Dining Summary
1 Welcome Reception (WR), 8 Breakfast (B), 3 Lunch (L), 3 Dinner (D), 1 Be My Guest (BMG), 1 Farewell Dinner (FD)
Be My Guest
Jaipur: Savour dinner with a local family at their home in Jaipur.
Dive Into Culture
Delhi: Take a rickshaw ride through Old Delhi., Jaipur: Visit a local market in Jaipur.
Iconic Experience
Jama Masjid: Admire the red sandstone and marble details of Jama Masjid during your visit to one of the largest mosques in the country., Delhi: Visit Agrasen Ki Baoli and take in the arched niches of this citybound step well., Delhi: See Old Delhi's Red Fort., New Delhi: During your orientation of New Delhi, visit Humayun's Tomb, and see India Gate and the Qutub Minar complex., Taj Mahal: View the Taj Mahal, known as one of the universally admired masterpieces of the world's heritage., Agra: Inside Agra's red sandstone fortress, witness the fairytale palaces, audiences halls and mosques of the Mughal rulers., Agra: See the imposing gate to the Jama Masjid and gain insight into life in Fatehpur Sikri, now a deserted ''ghost town.'', Ranthambore National Park: Tour Ranthambore National Park for a chance to glimpse the resident animals and birdlife., Jaipur: Learn the traditional art of block-printing with a Local Specialist., Jaipur: During an orientation of Jaipur, visit the Amber Fort, City Palace and Jantar Mantar Observatory.
MAKE TRAVEL MATTER®
Delhi: On a walking tour with a guide from the Salaam Baalak Trust which cares for the street children of Delhi.
Must-see Highlights
: Explore Delhi and Jaipur, : Visit Jama Masjid, Raj Ghat, Humayun's Tomb and Qutub Minar in Delhi, the Taj Mahal and Agra Fort in Agra, Fatehpur Sikri, Ranthambore National Park and Amber Fort and the City Palace in Jaipur, : View the Palace of Winds in Jaipur, : See the Red Fort, Parliament House and India Gate in Delhi
Whats Included
: An expert Travel Director and professional Driver, : Cherry-picked hotels, all tried and trusted, : All porterage and restaurant gratuities, : All hotel tips, charges and local taxes, : Breakfast daily and up to half of your evening meals, : Must-see sightseeing and surprise extras, : Audio headsets for flexible sightseeing, : Luxury air-conditioned coach with Wi-Fi in most countries or alternative transportation (such as rail journeys), : Optional Experiences and free time
Day 1: Welcome to Delhi
India's vibrant capital extends a lively welcome, launching an unforgettable journey through northern India's most exquisite sights. On arrival in Delhi, you'll be transferred to your hotel where you'll meet your Travel Director and fellow travellers for a Welcome Reception with drinks and local appetisers this evening.
Day 2: Discover the Delights of Old Delhi Dive Into Culture
Savour the scents of spice as you embark on an exhilarating rickshaw ride, navigating the busy streets of Old Delhi. See the Red Fort, a sandstone fortress which once housed the emperors of the Mughal dynasty for centuries. Next, Dive Into Culture as you ride through the colourful Chandni Chowk market and watch it come to life as the day's trading begins amidst the sounds of enthusiastic salesmen and endless traffic. Visit Jama Masjid, one of the largest mosques in India. Admire its ornate façades before boarding a waiting vehicle to drive to Raj Ghat, a memorial dedicated to Mahatma Gandhi. Pay tribute to this beloved figurehead, who led the campaign for India's independence from Britain. You'll come face-to-face with the site where he was cremated following his assassination in 1948. Today the simple square platform of black marble is surrounded by a tranquil park, befitting of its status as a place of contemplation. Your next stop is Agrasen Ki Baoli, one of the most noteworthy stepwells in Delhi. Hidden amidst the cacophony of Delhi's streets and business towers, this ancient water reservoir rises from the depths of the earth to stand atop 103 stone steps. Spend a few moments of serenity amidst its centuries-old ornate arches before returning to your hotel for an afternoon of leisure or consider one of our Optional Experiences.
Day 3: See the Sights of Delhi Make Travel Matter
This morning, join a guided walking tour run by one of the rehabilitated street children who were taken in by the Salaam Baalak Trust in Delhi. Your visit is a MAKE TRAVEL MATTER® Experience and supports this non-profit organisation and the street children for whom it cares. Later, walk through Paharganj Bazaar, rubbing shoulders with the locals who flock to the market to shop every day. Escape the noise and head to New Delhi, designed and built by the British in the 1920s. Your first stop here is a visit to the UNESCO-listed Humayun's Tomb, the earliest example of Mughal architecture in India. Recently renovated with the gardens restored to their former glory, you'll see first-hand why it served as the inspiration for the design of the famous Taj Mahal. Enjoy local flavours for lunch at a restaurant near India Gate, then head to the Qutub Minar complex, also a UNESCO listed site. This fluted 'Victory Tower' is decorated with elaborate inscriptions, geometric carvings and elegant balconies. Returning to your hotel later, drive past Lutyens' Delhi to view the elegant colonial façades leading British architect Edwin Lutyens left behind on the cityscape. You'll have the rest of the afternoon at leisure, or perhaps join one of our Optional Experiences.
Day 4: Sunset at the Taj Mahal
It's time to leave Delhi behind, bound for the Uttar Pradesh city of Agra. There are many reasons to love Agra and its own 'monument to love', the Taj Mahal, is perhaps the most captivating of all. Marvel at its elegant marble façades awash with the sunset's rose and golden hues. Admire this well-preserved landmark from all sides and take time to contemplate the magnificence of this man-made wonder before re-joining your fellow travellers. This evening, you could choose to end a memorable day at an optional sound and light show prior to dinner.
Day 5: From the Taj to the Tigers
There's more to Agra than the Taj Mahal as you'll come to discover this morning during your visit to the UNESCO-listed Agra Fort. Stroll through the chambers of a 17th-century royal residence which served as the principal residence of the influential Mughal emperors until the capital was moved to Delhi. Continue to the long-deserted 'Ghost Town' of Fatehpur Sikri, built at great expense by Emperor Akbar in 1569 only to be abandoned soon afterwards due to a lack of water. The city remains beautifully preserved, albeit with an air of melancholy – a rusty-red sandstone masterpiece devoid of inhabitants. Enjoy lunch at a local restaurant in Bharatpur. Then, appreciate first-hand a quintessential travel experience in India as you board a train bound for Ranthambore, where you'll stay for the next two nights.
Day 6: Roam Ranthambore in Search of Tigers
Start the day with an early morning visit to Ranthambore National Park, which was once the hunting ground of the Maharaja of Jaipur. Before the heat of the day sets in and the wilderness awakens, keep a keen eye out for the resident animals and birdlife that find sanctuary here. Have your camera ready in case the park's tigers make a brief appearance. Return to your hotel for a late breakfast, followed by some time to relax, or to join an Optional Experience. After lunch there's another opportunity to explore the park for a glimpse of the various species of bird and wildlife on your second game drive of the day. Dinner is served at your hotel.
Day 7: Onwards to Jaipur Dive Into Culture
Continue your journey to Jaipur, the Pink City. After some free time for lunch, join a workshop on hand-block printing, one of the most famous traditional art forms of Rajasthan. A Local Specialist will show you the tricks of the trade as you observe how the prints are handmade using small wooden blocks and hone your own block-printing skills. Later, Dive Into Culture and see the talents of local craftspeople on display during a visit to a local market. Admire the colourful textiles and perhaps buy a memento or two to take home. Jaipur is particularly renowned for its embroidery and blue pottery. This evening, join a local family for an exclusive Be My Guest dinner in their home and savour some of the regional delicacies.
Day 8: Explore Colourful Jaipur
One of today's highlights is a visit to the UNESCO-listed Amber Fort. But first, stop to admire the red and pink façades of the Palace of Winds, whose latticed windows once revealed the outside world to the sheltered ladies of the royal household. Continue with a visit to the ornate City Palace, an impressive complex of buildings from different eras and gardens in the heart of the Old City. Enjoy some time for lunch before visiting the UNESCO-listed Jantar Mantar Observatory, featuring the world's largest sundial. Later, perhaps join our optional Aarti ceremony, offering a blessing to one of the Hindu deities and hopefully receiving one in return. This evening, we'll toast to shared memories over a delicious local Farewell Dinner with those guests ending their journey in Jaipur.
Day 9: Farewell Jaipur
Bid a fond farewell to your Travel Director and fellow travellers at the end of an epic journey from Delhi to Jaipur. Transfer to Jaipur Airport for your onward flight or alternatively return to Delhi by coach departing at 10:00AM and arriving to Delhi at approximately 4:30PM. The coach will drop off at Delhi International Airport and the Trafalgar post-night airport hotel, the Pride Plaza Aerocity.
Contact Us
Our Holiday Team at Travel Megastore are always available to help you with anything you might need - we've got you covered! Find our contact details for your selected regions below.
| Country | Phone | Operating Hours |
| --- | --- | --- |
| United Kingdom | | Monday-Friday: 9:00am-8:30pm |