Walk the Jurassic Coast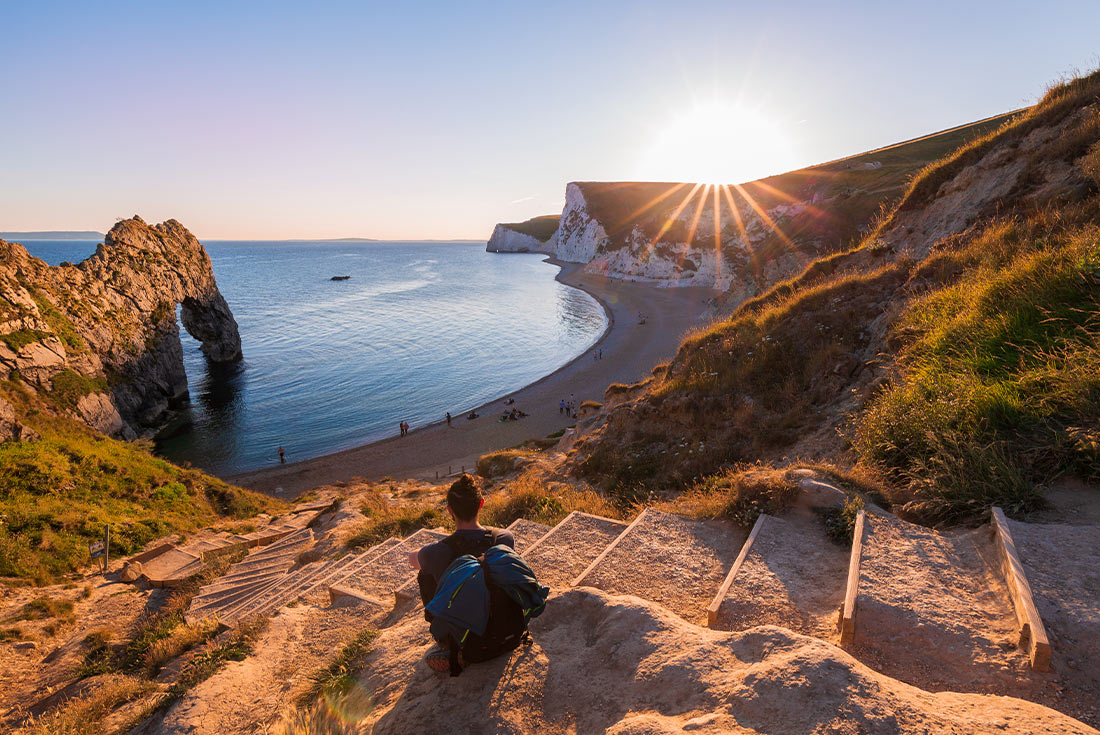 Duration: 5 Days
Countries: United Kingdom
Tour Provider: Intrepid
Tour Code: BMXJ
Description
No, this is not the setting of Jurassic Park, but it may well could've been. With striking cliff faces, renowned rock formations, sweeping stretches of Atlantic coastline and pockets of history at every turn, the Jurassic Coast is begging to be explored. Spend five days walking a section of southern UK's coastline, from Weymouth to Swanage and all the natural peculiarities in between. Admire St Catherine's Chapel poised from above, take in the stunning Lulworth Cove, Isle of Portland and Durdle Door, and stop by quaint British towns for a pint at the pub. With a knowledgeable leader each step of the way taking you on the most scenic trails and recommending favourite local haunts, your walking adventure along the Jurassic Coast is sure to be a 'best-of' the region.
Dining Hightlights
4 breakfasts
Travel Hightlights
Walk along undulating cliff faces to some of the Jurassic Coast's finest vantage points. Stroll past the stunning Lulworth Cove and see the famous Durdle Door rock formation in all its eroded glory. Explore the Isle of Portland – an eerie stretch of land with many secrets to share. Take note of the stone that frames its shores, as this is the same as what parts of the city of London is paved in! Cover the best trails that the Jurassic Coast has to offer, with an enthusiastic leader providing a history lesson en route. Dinosaur prints, medieval mysteries, local lore – this region has it all! Spend a day exploring the quaint town of Corfe, visiting its renowned castle perched high above, with thousands of years of medieval history, and a village full of traditional British shops and eateries. What's a trip in the UK without a pint at the pub? Have a number of opportunities to cosy up at a local watering hole with your fellow adventurers, enjoying local brews in places like Worth Matravers.
Included Activites
Abbotsbury Coast guided walk, Isle of Portland circular walk, White Stones Art Cafe visit, Osmington Mills to Lulworth walk, Lulworth Cove and Durdle Door visit, Weymouth to Swanage luggage transfer (1 piece per person), Worth Matravers village walk, Swanage to Corfe village walk
Itinerary Overview
Day 1: Weymouth
Welcome to Weymouth – a central hub along the UK's Jurassic Coast. Note that your adventure starts this morning, so you may like to stay an extra night here to ensure you join your group at the right time. If so, we'll be happy to organise additional accommodation (subject to availability). At around 10 am, meet your walking group and after a Welcome Meeting, transfer to the nearby town of Abbotsbury. There may be time for a snack or light lunch, before you hit the trails. Begin your walk as you check out the sweeping shores of the Chesil Banks alongside the rolling green Dorset countryside. Keep an eye out for the lonely St Catherine's Chapel sitting high above the water, with incredible views down to Portland and Chesil Beach. Back in Weymouth you will have the rest of the evening at leisure. Perhaps consider a stroll along the beach, or else cosy up at one of the town's pubs with a few of your fellow travellers.
Day 2: Isle of Portland
This morning, take public transport to the Isle of Portland. Here, you'll embark on a looped walk, exploring the best of the area. It's an eerie and strange part of the coastline – a rocky outcrop considered the most southerly tip of the Jurassic Coast, connected by a thin stretch of land. You may think that no one lives here, however, there are seven settlements and even a prison! Portland is a superb year-round walking destination, as well as a hotspot for rock climbing and kayaking. Take in some of the best views of the island, stopping by the local White Stones Art Café for a cuppa.
Day 3: Osmington Mills – Lulworth – Swanage
Today, transfer to Osmington Mills for a scenic walk to Lulworth. This stretch of the Jurassic Coast is quite challenging but arguably the most jaw-dropping – the undulating hills giving way to panoramas of light limestone cliffs, rock formations and picturesque beaches dotting the horizon. Take your time walking as you hug the coastline, stopping to admire the cliffs and coves, perhaps with a few photos. During the day, you'll stop by Lulworth Cove – one of the region's most stunning and secluded stretches of sand – as well as the renowned Durdle Door. You've likely already seen this feat of nature in any number of movies, photos or ads, but seeing a rock formation like this in the flesh is that much more special. After an incredible day of landscapes, transfer to the nearby town of Swanage for tonight.
Day 4: Swanage
Today is free for you to explore as you please in Swanage. If you'd like, your local leader has an optional walk planned, so you could join them. You'll head through the countryside to Worth Matravers, with a couple of stops on the way and options to go on further hikes. After a while, regroup with your travel pals and do what is quintessentially British – celebrate with a pint at the pub in town (at your own expense). If you're after something a bit more challenging today, be sure to ask your leader, as there are longer hiking options available, plus others where you can view more of this unusual yet wonderful coastline.
Day 5: Corfe – Swanage
With your group, begin the day with a walk to the grand ruins of Corfe Castle. The dramatic landscapes on your way are as worthy of a pitstop and exploration – with dinosaur prints, medieval field systems and other evidence of habitation found all over this region. On arrival in Corfe village, you'll have some free time to check out the town or book yourself in for a castle visit (which is highly recommended). Dominating the skyline of the town, thousands of years of history lay within the castle walls, from its creation, to resilience during the British Civil War, and partial demolition in the 17th century. Afterwards, you might want to check out one of the eateries in town – there are plenty of authentic British food options available. Depending on the group's ability, return via a looped walk or on public transport and arrive in Swanage in the late afternoon or early evening. After this, there are no activities planned, so you are free to leave the group and continue your own adventure. Better yet, consider an extra night in Swanage after your tour finishes, to sing one last hurrah to the Dorset countryside.